🎉 🩷 HOLIDAY GIFT EVENT 🩷 🎉
⭐️ EXTRA 20% OFF w/code 'GIFTNOW'
SHIPS FAST | FREE RETURNS | LIFETIME WARRANTY
GET A FREE GEMSTONE VITALITY BRACELET
WITH ORDERS OVER $100 USD ( $78 USD VALUE)
FREE SHIPPING WITHIN USA
ON ORDERS OVER $20+
🎉 🩷 HOLIDAY GIFT EVENT 🩷 🎉
⭐️ EXTRA 20% OFF w/code 'GIFTNOW'

SHIPS FAST | FREE RETURNS
LIFETIME WARRANTY
GET A FREE
GEMSTONE VITALITY BRACELET
WITH ORDERS OVER $100 USD ( $78 USD VALUE)
FREE SHIPPING WITHIN USA
ON ORDERS OVER $20+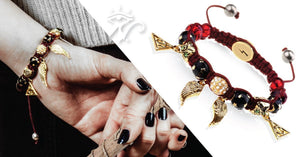 THE PATRONUS CHARMBALLA BRACELET
Inspired by one of the most famous wizards in the magical world, we've collected recognizable pieces of his story to bring you this awesome Patronus Bracelet.
Adorned with the symbol of the three brothers to protect and bring strength, this fascinating wrist piece features the lightning bolt that started it all. Ruby red crystals complement the white nylon braiding and keep the Philosopher's Stone close at hand. And how could we forget about the Quaffle. Also represented are two green-eyed silver owl charms to characterize our wizard's loyal feathered companion, and little Pigwidgeon.

White Enamel beads with silver stars bring invisibility a whole new meaning.
Last but not least, at the forefront of this magical piece of arm candy is a sparkly golden crystal shamballa with silver dangling wings representing the fast and elusive game-winning snitch .
You'll be sure to turn heads and keep the darkness at bay with this beautifully mysterious bracelet. Available in limited quantities only so get yours before the other witches and wizards make them disappear.