🎉 🩷 HOLIDAY GIFT EVENT 🩷 🎉
⭐️ EXTRA 20% OFF w/code 'GIFTNOW'
SHIPS SAME-DAY | FREE RETURNS | LIFETIME WARRANTY
GET A FREE ULTRAMARINE LUMOS VITALITY BRACELET
WITH ORDERS OVER $100 USD ( $70 USD VALUE)
FREE SHIPPING WITHIN USA
ON ORDERS OVER $20+
🎉 🩷 HOLIDAY GIFT EVENT 🩷 🎉
⭐️ EXTRA 20% OFF w/code 'GIFTNOW'

SHIPS SAME-DAY | FREE RETURNS
LIFETIME WARRANTY
GET A FREE
ULTRAMARINE LUMOS VITALITY BRACELET
WITH ORDERS OVER $100 USD ( $70 USD VALUE)
FREE SHIPPING WITHIN USA
ON ORDERS OVER $20+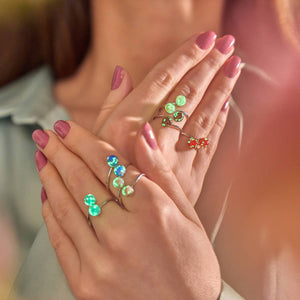 FIREFLY GLASS INFINITY HELIX RINGS
Tired of rings not fitting!? After months of development we've come up with a NEW helix design that will make this the last ring you ever need to buy - And this is just the beginning! Our NEW Infinity Helix Rings are designed so they can adjust to any finger, on any hand, on anyone! Yup, you read that right.


The ring that you would wear on your index on Monday is the same ring you can swap to your middle finger on Tuesday and rock on your thumb come Saturday night!


Seems too good to be true!? You'll have to try one on to believe it. We tested a number of metals and band thicknesses to get the perfect combination of strength and elasticity.


By using .925 sterling silver at the optimal gauge density, it allows the ring to open and close around the finger offering an easy adjustability that will cover differences in finger sizing from size 5 all the way to 10. It's a revolution in the ring market and it's our most innovative design triumph yet! Expect a patent / trademark soon.