🎉 🩷 HOLIDAY GIFT EVENT 🩷 🎉
⭐️ EXTRA 20% OFF w/code 'GIFTNOW'
SHIPS SAME-DAY | FREE RETURNS | LIFETIME WARRANTY
GET A FREE PEACHES & CREAM GOLD x JADE VITALITY BRACELET
WITH ORDERS OVER $100 USD ( $78 USD VALUE)
FREE SHIPPING WITHIN USA
ON ORDERS OVER $20+
🎉 🩷 HOLIDAY GIFT EVENT 🩷 🎉
⭐️ EXTRA 20% OFF w/code 'GIFTNOW'

SHIPS SAME-DAY | FREE RETURNS
LIFETIME WARRANTY
GET A FREE
PEACHES & CREAM GOLD x JADE VITALITY BRACELET
WITH ORDERS OVER $100 USD ( $78 USD VALUE)
FREE SHIPPING WITHIN USA
ON ORDERS OVER $20+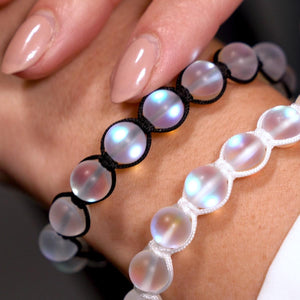 MERMAID GLASS BRACELETS
Don't Buy Fakes! Shop Authentic Mermaid Glass from NOGU. 

The Mermaid Glass™ bead bracelets are hand-crafted from glass beads and glow in daylight. Strung with a .925 Sterling Silver & 18k Gold Accent or Stainless Steel bead option, you have to experience one to believe it.

All Mermaid Glass™ products come beautifully gift boxed & are backed by a Lifetime Warranty.  
Help us support ocean clean up! We've partnered with 
Take
 3 and are donating 
10% of net sales
 from the Mermaid Glass Collection to help support their mission to clean up the oceans and reduce plastic pollution. #TAKE3FORTHESEA