⭐️ FALL SALE ⭐️
EXTRA 15% OFF w/code 'FALL15'
SHIPS SAME-DAY | FREE RETURNS | LIFETIME WARRANTY
GET A FREE PURPLE CHESHIRE GLASS CHARMBALLA BRACELET
WITH ORDERS OVER $100 USD ( $58 USD VALUE)
FREE SHIPPING WITHIN USA
ON ORDERS OVER $20+
⭐️ FALL SALE ⭐️
EXTRA 15% OFF w/code 'FALL15'
SHIPS SAME-DAY | FREE RETURNS
LIFETIME WARRANTY
GET A FREE
PURPLE CHESHIRE GLASS CHARMBALLA BRACELET
WITH ORDERS OVER $100 USD ( $58 USD VALUE)
FREE SHIPPING WITHIN USA
ON ORDERS OVER $20+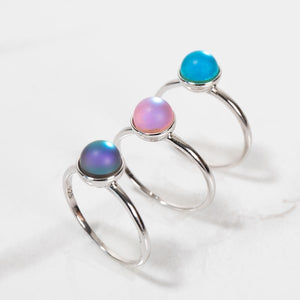 MERMAID GLASS™ RINGS
Each ring features an iridescent Mermaid Glass™ accent bead in a solid .925 sterling silver setting. They are available in 3 sizes and 4 hypnotic hues. 
All Mermaid Glass™ products come beautifully gift boxed & are backed by a Lifetime Warranty.  

The Mermaid Glass™ trademark is owned by NOGU. All rights reserved.