🎉 🩷 HOLIDAY GIFT EVENT 🩷 🎉
⭐️ EXTRA 20% OFF w/code 'GIFTNOW'
SHIPS FAST | FREE RETURNS | LIFETIME WARRANTY
GET A FREE COTTON CANDY JADE VITALITY BRACELET
WITH ORDERS OVER $100 USD ( $78 USD VALUE)
FREE SHIPPING WITHIN USA
ON ORDERS OVER $20+
🎉 🩷 HOLIDAY GIFT EVENT 🩷 🎉
⭐️ EXTRA 20% OFF w/code 'GIFTNOW'

SHIPS FAST | FREE RETURNS
LIFETIME WARRANTY
GET A FREE
COTTON CANDY JADE VITALITY BRACELET
WITH ORDERS OVER $100 USD ( $78 USD VALUE)
FREE SHIPPING WITHIN USA
ON ORDERS OVER $20+
HOW TO CHARGE YOUR GLOW IN THE DARK HIMALAYA BRACELETS
We've put together some resources on what to expect when your Himalaya Glass bracelet arrives. How to charge it, how long it glows and best practices to get the most out of your new jewelry!

You are one of the lucky ones that moved quickly and grabbed one and we are thrilled for your upcoming #glowup!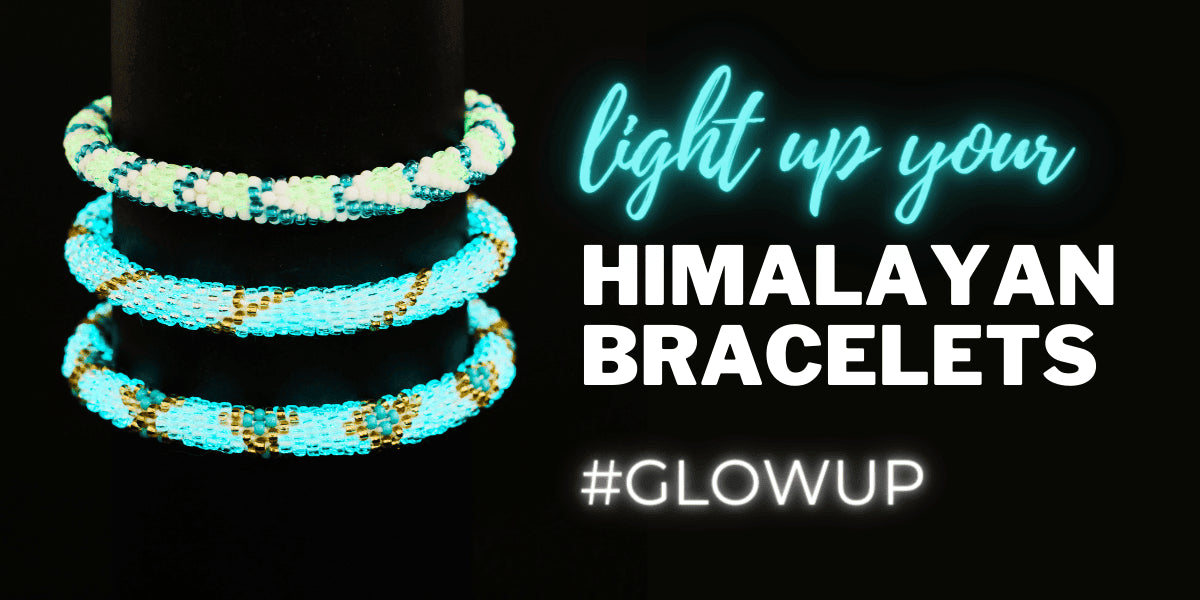 ⚡⚡HOW TO CHARGE ⚡⚡

The Himalaya Glass Seed Bead collection is made of genuine glass beads infused with a glow-in-the-dark phosphorescent powder in the form of Strontium Aluminate.

These glow-in-the-dark phosphors absorb light in visible and ultraviolet wavelengths and then re-emit visible light in the form of what see as a "glow" in various shades of green, teal & blue.

This means, however, that you need to charge your bracelet for them to emit this light.
💡 1. CHARGE UNDER A BRIGHT LAMP. Put your bracelet as close to a lamp or household light for a minimum of 5 minutes for best results. The closer, the better. This type of quality light will energize the bracelet the fastest and with the most intensity.

☀️ 2. CHARGE IN THE SUN: Place the bracelet in a bright sunbeam near a window and let the bracelet charge for a minimum of 10 minutes. The brighter the natural light beam, the brighter the phosphorescent glow!

🌌 3. USE A STRONG UV LIGHT: Supercharge your bracelets with UV light For minimum of 5 minutes. Charged by UV light the atoms in the glowing particles will hold the light's energy for a long time but will eventually release it as visible light giving you the strongest glow.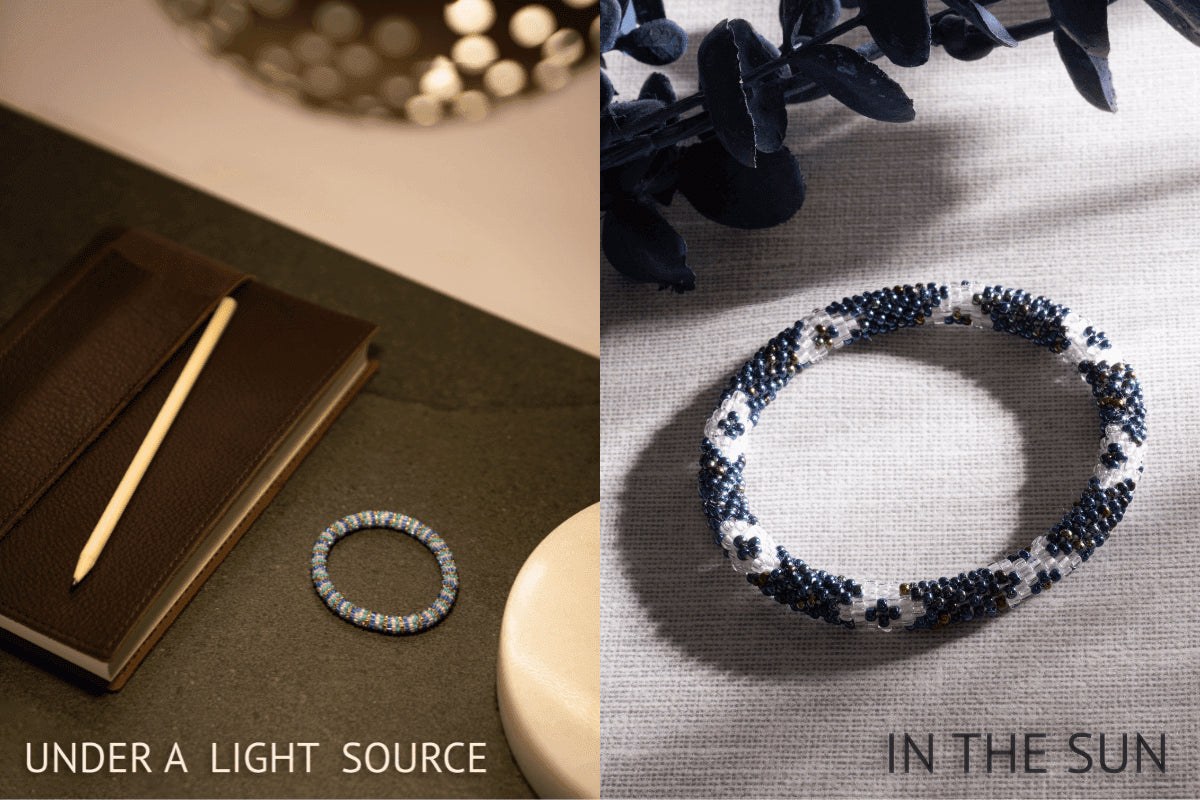 ⚡⚡LIGHT SOURCES FOR BEST RESULTS ⚡⚡

5 MINUTES : ULTRAVIOLET LIGHT ( BLACK LIGHT)

10 MINUTES : DIRECT SUNLIGHT

10 MINUTES : FLUORESCENT LIGHT ( ENERGY SAVING BULBS)

10+ MINUTES : INCANDESCENT LIGHT ( STANDARD FILAMENT)