🎉 🩷 HOLIDAY GIFT EVENT 🩷 🎉
⭐️ EXTRA 20% OFF w/code 'GIFTNOW'
SHIPS SAME-DAY | FREE RETURNS | LIFETIME WARRANTY
GET A FREE STRAWBERRY SHERBET GOLD x JADE VITALITY BRACELET
WITH ORDERS OVER $100 USD ( $78 USD VALUE)
FREE SHIPPING WITHIN USA
ON ORDERS OVER $20+
🎉 🩷 HOLIDAY GIFT EVENT 🩷 🎉
⭐️ EXTRA 20% OFF w/code 'GIFTNOW'

SHIPS SAME-DAY | FREE RETURNS
LIFETIME WARRANTY
GET A FREE
STRAWBERRY SHERBET GOLD x JADE VITALITY BRACELET
WITH ORDERS OVER $100 USD ( $78 USD VALUE)
FREE SHIPPING WITHIN USA
ON ORDERS OVER $20+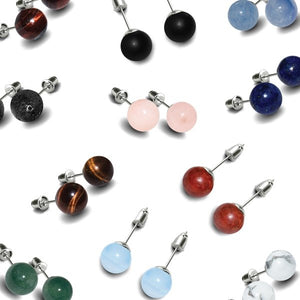 .925 STONE EARRINGS
The .925 Natural Stone Stud Earrings are hand-crafted from 8mm Natural Stone beads and set on a .925 sterling silver stud and backing finished with a gleaming white or yellow gold vermeil. 
Natural Stones and Crystals have healing properties that help to balance the body, mind, and spirit. Healing crystals and gemstones have been used for thousands of years by ancient civilizations; the Egyptians, Aztecs, and others incorporated them into jewelry, cosmetics, decorative statues, amulets, and much more--a testament to their powerful ability to release mental, physical, and spiritual blockages.

To access the maximum healing power of crystal gems, we recommend choosing the best crystal gem that you need at this moment. When picking out your healing crystals, don't overthink it. Instead, let your intuition make the right choice.