🎉 🩷 HOLIDAY GIFT EVENT 🩷 🎉
⭐️ EXTRA 20% OFF w/code 'GIFTNOW'
SHIPS FAST | FREE RETURNS | LIFETIME WARRANTY
GET A FREE GEMSTONE VITALITY BRACELET
WITH ORDERS OVER $100 USD ( $78 USD VALUE)
FREE SHIPPING WITHIN USA
ON ORDERS OVER $20+
🎉 🩷 HOLIDAY GIFT EVENT 🩷 🎉
⭐️ EXTRA 20% OFF w/code 'GIFTNOW'

SHIPS FAST | FREE RETURNS
LIFETIME WARRANTY
GET A FREE
GEMSTONE VITALITY BRACELET
WITH ORDERS OVER $100 USD ( $78 USD VALUE)
FREE SHIPPING WITHIN USA
ON ORDERS OVER $20+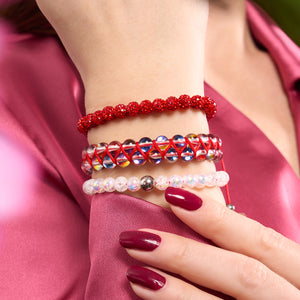 RED STRING COLLECTION 2023
STRENGTH | FAITH | CULTURE

Many different cultures have worn red-stringed jewelry as way to ward off misfortune, as a symbol of strength & faith, and as a form of protection, to name a few. Judaism, Hinduism, Christianity, Ancient Chinese legend, all have strong connections to the red string and its importance. 


PROTECTION | BLESSINGS

When you wear your Red String bracelet, know that it carries with it the essence its ancestors & their blessings, to help carry each and every one of us towards a brighter future. Wear it your left wrist (close to your heart) and it will keep you safe for years to come.