🎉 🩷 HOLIDAY GIFT EVENT 🩷 🎉
⭐️ EXTRA 20% OFF w/code 'GIFTNOW'
SHIPS FAST | FREE RETURNS | LIFETIME WARRANTY
GET A FREE GEMSTONE VITALITY BRACELET
WITH ORDERS OVER $100 USD ( $78 USD VALUE)
FREE SHIPPING WITHIN USA
ON ORDERS OVER $20+
🎉 🩷 HOLIDAY GIFT EVENT 🩷 🎉
⭐️ EXTRA 20% OFF w/code 'GIFTNOW'

SHIPS FAST | FREE RETURNS
LIFETIME WARRANTY
GET A FREE
GEMSTONE VITALITY BRACELET
WITH ORDERS OVER $100 USD ( $78 USD VALUE)
FREE SHIPPING WITHIN USA
ON ORDERS OVER $20+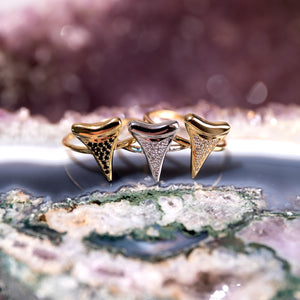 SHARK TOOTH BY NOGU X LAUREN HOWE
STRONG | GRACEFUL | MISUNDERSTOOD
Lauren has always had a passion for sharks, which confused people. Why an animal that people are terrified of? This was never the case for Lauren. As a child, she watched JAWS and felt bad for the shark. For Lauren, sharks are a symbol of misconception and stereotypes - something we can all relate to.

This collection was designed to change the narrative on sharks. These are powerful and misunderstood animals. "When I wear these pieces, I think not only about the importance of protecting sharks, but also about the idea is misconceptions, stereotypes and an individual's fight to break those. I hope this collection inspires you to do the same." - Lauren Howe

We wanted to make sure that this collection helped give back to the Rob Stewart Sharkwater Foundation. Rob is is conservationist and filmmaker. His film Sharkwater brought shark finning to the world stage and helped change laws and public policy around the world. The Sharkwater team continues to fight to save sharks in Rob's honour.
5% of net sales from the Sharktooth Collection by Lauren Howe is donated to Rob Stewart's Sharkwater Foundation. The Sharkwater Foundation's goal is to inspire others to live their own dreams and make a difference by protecting sharks, our ecosystems and our oceans. Rob believed that: "Conservation is the preservation of human life on earth. And that, above all else is worth fighting for." Our mission is to create the tools required to engage others in educating our communities world wide.